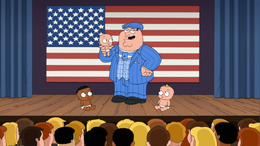 Yankee Doodle Dandy
is a song sung by
Peter Griffin
in the episode "
The Finer Strings
". In a cutaway gag, Peter sang this song at the talent show when he was in high school (despite being shown as an adult), while audience members threw babies at him and he caught them, trying to guess their weight. The song was originally used in the musical,
Little Johnny Jones
.
Lyrics
Peter: I'm a Yankee Doodle dandy!
Peter (Speaking): Eight pounds!
Peter: Yankee Doodle, do or die.
Peter (Speaking): Twelve-point-nine, a big one.
Peter: Real-live nephew of my Uncle Sam,
Born on the fourth of July.
Peter (Speaking): Three pounds? Someone couldn't wait to be here.
Community content is available under
CC-BY-SA
unless otherwise noted.