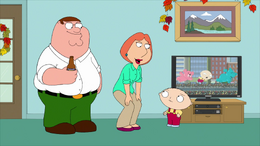 Understanding Stewie is a recurring theme in Family Guy. It has always been rather ambiguous whether Lois (and to a lesser extent, Peter), can understand Stewie. Some characters never seem to respond to Stewie's comments directly, while other characters, such as Brian have proven numerous times that they can understand him full well. With these inconsistencies in the reactions Stewie gets to his dialogue, it's hard to tell how understandable he is to others.
According to Seth MacFarlane, himself, everyone IS able to understand Stewie full well. However, characters such as Peter and Lois just choose to ignore him the way most people do with children, believing in the idealism that "Children should be seen and not heard."
Character Reception
Major characters who can and can't understand Stewie Griffin.
Stewie Understanders
Stewie Non-Understanders
Meta-References
Community content is available under
CC-BY-SA
unless otherwise noted.