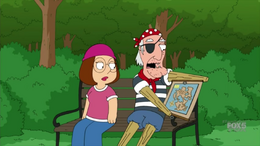 Treasure Map
is an episode of
Family Guy
.
Synopsis
When Meg goes out with Seamus, the latter gets boycotted for dating a minor and Meg starts protesting against this, along with the aid of Herbert, trying to get "Pedophiles" accepted into the LGBT community.
Plot
Characters
Major Roles
Minor Roles
Trivia
Cultural References
The title of this episode refers to the term "MAP": an acronym for "Minor Attracted Person", which is a euphemism used by pedophiles in reference to themselves, to make them sound less threatening or abhorrent when they argue for the rights for their disgusting paraphilias to be accepted as normal.
Continuity
Community content is available under
CC-BY-SA
unless otherwise noted.