PLOT
The Joyce Show!



Number Of Seasons

1

Number Of Episodes

20

Created By

Seth MacFarlane Christine Lakin

Genre

Comedy,Animation,Surreal humor,Social satire

Original Channel

Fox

Country of origin

United States

Opening Theme

"The Joyce Show's Theme" singing by Christine Lakin

Production

Fuzzy Door Productions

Running Time

20-23 Minutes

Original Run

22 September 2019-17 May 2020
This series is a spin-off of Family Guy,composed by one season of 20 episodes and based on the former villain and secondary heroine Joyce Kinney.The series will be set after the events of Season 9 and before the events of Season 10,the first episode will tell the story of how it ended the rivalry between Lois and Joyce,but not only this,Joyce will live many more adventures together with characters like Tom Tucker,Ollie Williams,Tricia Takanawa,Bonnie Swanson,Glenn Quagmire,Brian Griffin and many other fun characters.
Joyce Kinney
Lois Griffin
Tom Tucker
Tricia Takanawa
Ollie Williams
Bonnie Swanson
Carol West
Jillian Wilcox
Adam West
Peter Griffin
Chris Griffin
Meg Griffin
Stewie Griffin
Brian Griffin
Glenn Quagmire
Joe Swanson
Susie Swanson
Carter Pewterschmidt
Barbara Pewterschmidt
Diane Simmons (Flashbacks only)
James Woods
Cleveland Brown (Cameo)
Lindsey Naegle (Cameo)
Francine Smith (Cameo)
Al Harrington
Connie DiMico
Lisa (Connie's Friend)
Angela
Bernice (Cameo)
John Herbert
Seamus Levin
Horace
Consuela
Bruce
Derek Wilcox (Mentioned Only)
Jake Tucker
Mort Goldman
Patrick Stewart
Cheryl Chevepravatdumrong (Joyce Kinney's sister) NEW CHARACTER!
Peter Chevepravatdumrong (Joyce Kinney's father) NEW CHARACTER!
Lorraine Chevepratdumrong (Joyce Kinney's mother) NEW CHARACTER!
Steven Parker (Cheryl's boyfriend turned his husband in season 11) NEW CHARACTER!
Jeff Fecalman (Cameo)
Brenda Quagmire (Cameo)
Evil Monkey
Ida Davis
"Main Theme" By "Christine Lakin"
"Teenage Dream" By "Katy Perry"
"Born This Way" By "Lady Gaga"
"California Gurls" By "Katy Perry Feat Snoop Dogg"
"It Might Be You" By "Stephen Bishop"
"I'm With You" By "Avril Lavigne"
"Just Dance" By "Lady Gaga"
"Africa" By "Toto"
"Life In Technicolor II" By "Coldplay"
"Invisible Touch" By "Genesis"
"Poker Face" By "Lady Gaga"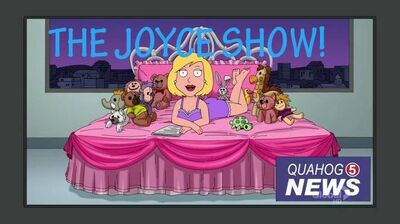 The Main Theme is singing by Christine Lakin who voiced Joyce Kinney in the series
The series is set in Summer 2011,after the events of Season 9 and before the events of Season 10
This series is the second spin-off of Family Guy,after The Cleveland Show
This series had a narrator,is Joyce Kinney of the present who tell his adventures after Season 9
Community content is available under
CC-BY-SA
unless otherwise noted.