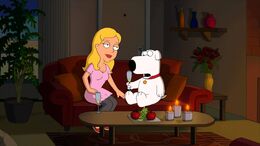 The Blind Side is an episode of Family Guy.
Synopsis
Brian dates a blind girl, who is unaware he's a dog. Meanwhile, Peter keeps falling down the stairs.
Plot
TBA
Characters
Major Roles
Minor Roles
Trivia
Cultural References
The title is a reference to the 2006 book and subsequent 2009 film of the same name starring Sandra Bullock.
A cutaway shows that Japanese people accept crazy or hilarious fetishes and sexual behavior in Japanese culture, particularly anime and manga. Sailor Venus from the Sailor Moon franchise shows up.
Continuity