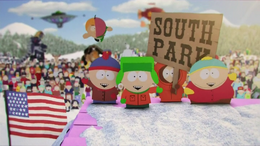 South Park
is an American adult animated sitcom created by Trey Parker and Matt Stone and developed by Brian Graden for the television network, Comedy Central. The show revolves around four boys—Eric Cartman, Kyle Broflovski, Stan March, and Kenny McCormick—and their bizarre adventures in and around the titular Colorado town. Much like The Simpsons, South Park uses a very large ensemble cast of recurring characters and became infamous for its profanity and dark, surreal humor that satirizes a wide range of topics towards a mature audience.
South Park references in Family Guy
Family Guy references in South Park
Family Guy was the point of interest in "Cartoon Wars" Parts 1 and 2, where they made fun of Family Guy for it's many flaws. The overuse of pointless cutaway gags, the bad animation, it ripping off The Simpsons, and more. Characters featured in the parody were Peter, Lois, Chris, Meg, Stewie, and Brian. Kyle broke into Seth Studios and discovered that the writers of Family Guy come up with their ideas, by writing random stuff down on beach balls, and hiring manatees to select random beach balls. Whatever's written on those beach balls, they'll find some way to put that stuff all together into a cutaway gag.
In "Canada On Strike", Stan suggested that in the absence of The Terrence & Phillip show, they should watch Family Guy instead. Cartman flipped out and destroyed the TV, not wanting to stoop that low.
In "Oh, Jeez!", Gerald did bad voice impressions of Peter, Stewie, Lois, Chris, and Quagmire.
Community content is available under
CC-BY-SA
unless otherwise noted.