Seneth Baker

Seneth Baker

Full Name:

Seneth Joseph Baker

Nickname:

Greed

Age:

18

Quotes:

"It's Greed." ".........What?" "I want money, women, sex, power!" "Oh......You're the one he talks bad to.."
Seneth Joseph Baker or known as "Greed" is Riley's old friend from detroit and an 18 year old boy who has super natural power when he was born. He has the power to use the carbon in his body and transform his skin as hard as diamond, (he has the same name as Homunculus Greed from Fullmetal Alchemist).
Powers
It has said that Seneth had super natural powers when he was born, he actually mean't when he was at least five years old, both him and his best friend Marceline Jenkinson. He was five when he became greedy for much of everything, he wanted beautiful women, money, power, and glory.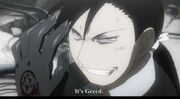 Personality
Seneth is a very avaricious character, despite his nickname Greed, his "full" nickname is "Greed the Avaricious". He first appeared in the first episode of Family Guy: The Anime Guys, trying to find his old friend from detroit, he went door-to-door asking Peter Griffin, Joe Swanson, and Glenn Quagmire. He asks Quagmire if he had seen him, Glenn's response was that he was in hell.
Fighting Style
Seneth's fighting style is just as good as
Ed
, except that he has powers beyond his controll.
Community content is available under
CC-BY-SA
unless otherwise noted.