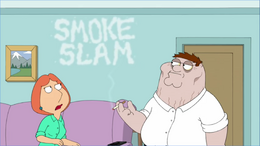 Secondhand Spoke is an episode of Family Guy.
Synopsis
After seeing how Stella gets smoke breaks, Peter becomes a smoker himself. Meanwhile, Stewie helps Chris stand up to his bullies.
Plot
TBA
Characters
Major Roles
Mr. Stone

Chris' Bullies

Perpetually Upbeat Black Kid
Minor Roles
Meredith

Smoking

Sandy

(Cameo)

Owl

(Cameo)

Lou Costello

(Cameo)
Bonnie Swanson (Mentioned)

Larry

(Deleted Scene)
Scarface (Deleted Scene)

King of Denmark Griffin

(Deleted Scene)

Sherlock Holmes

(Deleted Scene)

John H. Watson

(Deleted Scene)
God (Deleted Scene)
Jesus Christ (Deleted Scene; Voice Only)
Quotes
Stewie: You know, that was a stroller. Not a speedbump.
---
Peter: Well, I have officially seen every video ever on YouTube. Gotta say there's not a bad one.
---
Angela: I need these shipping and voices filed immediately.
Stella: I'll be right back.
Peter: There she goes again. How come she always skips out when there's work to do?
Angela: She's just taking a smoke break.
---
Principal Shepherd: God, there's like nobody hot at this school anymore.
---
Principal Shepherd: First off, we have a new rule. No more asking the gym teachers if they went to college. They did not.
---
Dr. Hartman: Mr. Griffin, I'm gunna need to ask you a few questions. Do you think I can jump and touch that pipe up there?
Peter: I don't know.
Dr. Hartman: The hell I can't! [jumps up and touches the pipe] There got it.
Lois: Yeah, I guess your fingertips grazed it.
Dr. Hartman: Yeah, that counts as a dunk.
---
Lois: Dr. Hartman, we're here for you to help Peter quit smoking.
Dr. Hartman: Mrs. Griffin, I can't do that. It's an addiction. I can't even get my son to stop being gay.
---
Stewie: Chris, I've got good news.
Chris: Aw, I'll take the bad news first.
Stewie: No, what? There is no bad news.
Chris: Oh, alright. Then give me the good news first.
---
Stewie: I'll never get to express disappointment with young people, while putting in my dentures.
[Cutaway gag to Stewie as an extremely old man looking at some kids out the window]
Stewie: Stupid younger generation. Back in my day, we had Katy Perry. Justin Bieber. That was real music.
[Puts in his dentures]
---
Peter: Lois, why does everybody on here look like Emperor Palpatine?
---
Lois: Peter, what are you doing!? I thought you quit!
Peter: Hey, if George Michael doesn't have to give up butts, why should I?
---
Kid: [offscreen] God, I love walking in the hall!
---
Chris: Thanks to you, I'm no longer getting bullies.
Stewie: Well, that's great. I guess we put those bullies in their place, huh?
Chris: Yeah. Two of them shot themselves.
Stewie: Oh, that's so good to hear, Chris.
---
Peter: Well, I finally quit smoking and I'm ready to go back to normal!
Lois: Peter, that's not how it works! The damage you've done is irreversible!
Brian: Yeah, Lois is right. As bad as you look, the damage you've done to your heart and lungs is, no doubt, exponentially worse.
Peter: What!? Well, ... uh-uh, try cutting to the outside of the house over some music. That usually works!
[Establishing shot of the house; Interior: Peter is still ugly]
Peter: Fuck!
Trivia
Insults Chris wrote on his geometry test:

Hey, queerbo, nice hair. Did you kill that possum yourself or was it dead when you found it?
You strike me as the kind of guy who's never been laid and never will be. Am I wrong?
Nice sunglasses, douchebag. Do you use them to cover your autism-eyes, shoots up schools with those on, or both?
Not gunna lie, Your beanie's the gayest thing I've ever seen.
Deleted Scenes
Cutaway gag about Scarface.
Peter mentioning how weird it is for a deaf person to smoke.
Cutaway gag to Peter having a Denmarkian ancestor with a really big table.
Peter being a perv as he listens to Meg's story about her hot friend Melissa.
Some guy says he's moving tomorrow.
Dumb gay joke about Sherlock Holmes and Watson.
Some weird guy has sex with Meg.
Stewie talks about Chris' music teacher who changes pants with a trash bag.
Cutaway gag to God coaching Jesus.
Mr. Stone makes a dumb joke about wives.
Peter has a bunch of violent sex with a hillbilly.
Peter tries to touch his toes.
Larry the naked hillbilly comes back for more sex.
Chris makes a dumb Jeff Zucker joke.
Principal Shepherd tells the kids to stop making fun of teachers who don't have cars.
Peter asks if Chris and Stewie are done with their scene.