Scott Harmon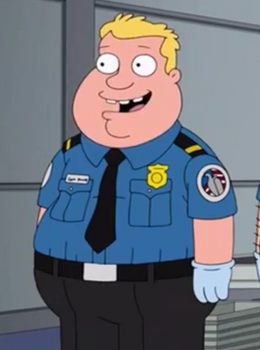 Scott Harmon
Scott Harmon is a security agent at Quahog Airport, who makes inappropriate jokes on the job, in reference to terrorism, 9/11, and Islamic prophet, Muhammad, putting him at risk of getting in serious trouble, which he somehow manages to narrowly avoid. He works alongside Tyler Maynard. He appeared in "Dr. C and the Women".
Biography
When Meg gets hired as a TSA agent at the Quahog Airport in "Dr. C and the Women", she discovers that she is the best looking agent, causing Scott to flirt with her by calling her "the bomb." When Scott follows that up as she walks away by referring to her as "Muhammad Hot-a", he is warned that he is playing a dangerous game by Tyler.
Community content is available under
CC-BY-SA
unless otherwise noted.