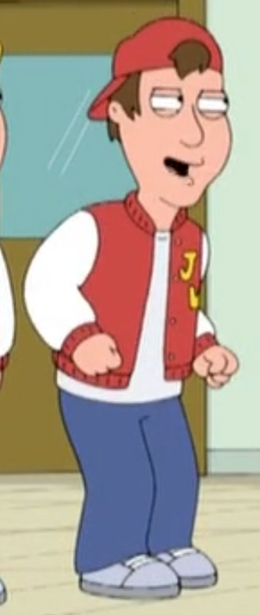 Scott is a bully at James Woods Regional High School. He is a recurring fourth member of the popular clique, along with Connie, Gina, and Doug and as of "He's Bla-ack!", Roberta.
Biography
In "Let's Go to the Hop", Scott does toad with Connie, Gina, and Doug. When Meg tries to join them, she is rejected.
In "Jungle Love", he and Doug abused Chris with a paddle.
In "Stew-Roids", Connie breaks up with Scott for being so immature, after he farts on Meg. Scott bullies a bunch of nerds by making them show him their penises, thinking that it will make them gay, when really, it makes him gay. He goes on to make numerous gay jokes about other people in the show, that really only seem to backfire on him. At the end of the episode, unprovoked, Scott randomly stands up and admits that he's gay.
In "7th Kevin", Scott started dating Daniel.
Episode Appearances
Trivia
Community content is available under
CC-BY-SA
unless otherwise noted.