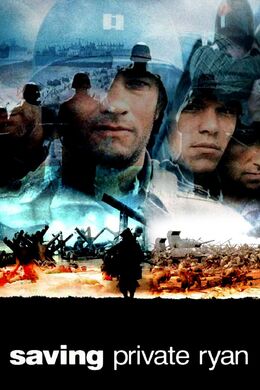 Saving Private Ryan
is a 1998 American epic war film directed by Steven Spielberg and written by Robert Rodat. Set during the Invasion of Normandy in World War II, the film is notable for its graphic portrayal of war and for the intensity of its opening 27 minutes, which includes a depiction of the Omaha Beach assault during the Normandy landings. It follows United States Army Rangers Captain John H. Miller (Tom Hanks) and a squad (Tom Sizemore, Edward Burns, Barry Pepper, Giovanni Ribisi, Vin Diesel, Adam Goldberg, and Jeremy Davies) as they search for a paratrooper, Private First Class James Francis Ryan (Matt Damon), the last surviving brother of four servicemen.
Community content is available under
CC-BY-SA
unless otherwise noted.