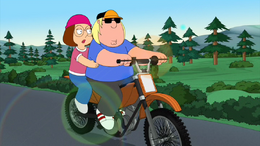 Revolution in the Air
is a song sung by
The Byrds
in the episode "
Trading Places
".
Chris
and
Meg
listened to this song, while riding on a motorcycle and Chris described it's lyrics as "seemingly deep but actually nonsensical". The music is very big and powerful and the lyrics contain a lot of fancy sounding words like "love" and "revolution" and "magical", yet upon dissecting the meaning of the lyrics, as actual sentences, they all come up, sounding really stupid and meaningless in both a literal and metaphorical sense.
Lyrics
There's revolution in the air,
And also in the river.
I'm not gonna cut my hair.
The sky's up in the sky,
And the rivers are the forests are the mountains are the sea,
And I am you, but you are not me,
And the visions of our minds are in the valleys, which are valleys,
And the oceans, and a camel, and my new socks, and a book.
Oh, this world is an ocean,
And as people, we are flowers,
And we're growing tall, but are we growing strong?
There's an old man, waiting desperately,
For a magical commitment.
His love was lost ten years ago,
But the cavalry lives on.
Every Sunday, he eats breakfast with a heart that's made of somber.
Although love will die, it's never truly gone.
There's a monkey and a mousetrap and a snow cone and a taxi.
They're all flying 'round in circles like the revolution in the air.
Community content is available under
CC-BY-SA
unless otherwise noted.