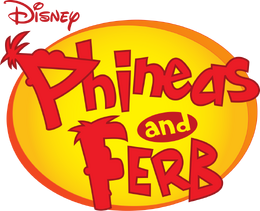 Phineas and Ferb
is an awesome cartoon about two boys named Phineas Flynn and Ferb Fletcher.
Connections
Phineas and Ferb in Family Guy
In "The Big Bang Theory", Stewie mentions that he stayed up late so he could watch Phineas and Ferb.
In "Movin' In (Principal Shepherd's Song)", Chris writes a Rule34 fanfiction about Phineas and Ferb. In it, Phineas and Ferb have sex and Candace walks in on them, and threatens to bust them. However, Doofenshmirtz built an "Abstinence-Inator" that presumably set Phineas and Ferb back to normal before she could expose them to Linda.
Family Guy in Phineas and Ferb
In "Road to Danville", the title of the episode is a reference to Family Guy's "Road to" episodes.
Trivia
Dan Povenmire used to be a writer on Family Guy before going on to make his own show, which of course, would be, Phineas and Ferb.
Dan Povenmire says that the comedy of Phineas and Ferb is a mixture between the comedy of Family Guy and Spongebob Squarepants.
In "Road to the Multiverse", Human Brian's head looked kind of like Ferb Fletcher's, but I think that was less of a "reference" and more of a "coincidence".
Community content is available under
CC-BY-SA
unless otherwise noted.