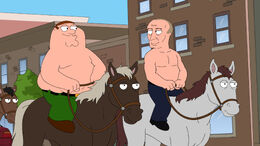 Petey IV is an episode of Family Guy.
Synopsis
Peter celebrates Dolph Lundgren's birthday, by watching a Russian bootleg version of Rocky IV. Meanwhile, Brian has the hots for his new co-worker at the suicide hotline.
Plot
TBA
Characters
Major Roles
Minor Roles
Trivia
This episode appropriately aired on Dolph Lundgren's 60th birthday.
Peter owns an Apple TV and Playstation.
Weenie and the Butt is parodied as Russian Morning Zoo show The Penis and the Buttocks.
Continuity
Peter notes that both his parents are dead. His mother, Thelma died in "Mom's the Word" and his father, Francis died in "Peter's Two Dads".

Strangely, he doesn't account for his real father, Mickey McFinnagin, who was introduced in the same episode his step-father, Francis died.

Brian breaks his leg in this episode, and it stays broken for a few episodes afterwards.
Cultural References
The title references the film Rocky IV in which Rocky Balboa takes on the Soviet fighter Ivan Drago.
Peter walks the audience though a cutaway gag reference to the 1989 Polaner All Fruit commercial.
Quagmire passes on Seth MacFarlane's film, A Million Ways to Die in the West.
Shirtless Vladimir Putin, as well as Peter and the guys, parody a series of photographs taken during a Siberian camping trip in 2009 as part of a publicity stunt to highlight Putin's macho image.
Putin refers to an incident in which baseball player George Brett defecated in his pants.
Peter's response to Putin calling him a chicken mimics that of Marty McFly's reaction to the same insult in Back to the Future, Parts II & III.
Donald Trump sends a text, "Hey I heard you were in town. You up for grabbing some <PUSSY>?", referring to the Access Hollywood tape, where he had stated that he would 'Grab 'em by the pussy'.
Putin states that he rigs all the U.S. presidential elections, referring to the 2016 election interference by Russia to aid then-candidate Donald Trump.
Gallery
Videos
Community content is available under
CC-BY-SA
unless otherwise noted.