Marcy Miller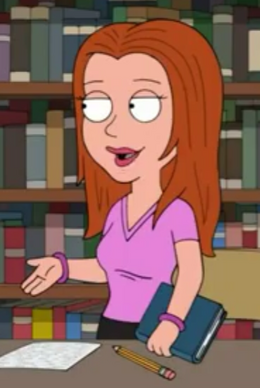 Marcille Miller
Marcille "Marcy" Matilda Miller is the current girlfriend of Chris Griffin. She goes to James Woods Regional High School. She is voiced by Mae Whitman.
Biography
Marcy first appeared in the episode "An App A Day". She was a relatively new student at James Woods Regional High, as Neil introduced her to Chris. She had become one of the "hot girls" in James Woods' pervy teenage boy community and Neil had gotten word out that she was also sexually active. He explained that Marcy Miller goes to Goldman's Pharmacy on a recurring basis to buy feminine products, and since he was Mort Goldman's son, he had connections and was able to spread the word to the boys at the school. Marcy wasn't on the popular level, and was really somewhere in the middle. At the time, she was really only having sex with people on her level too. Rumors were also spread that Marcy was a big fan of dic pics, and would fall for anyone who sent her one. These rumors, weren't entirely confirmed, but Chris, wanting to get with her, took the risk and sent her a picture of his own.
Trivia
Marcy buys feminine products from Goldman's Pharmacy, so you know she's up and running.
All of her initials are the letter "M".
Community content is available under
CC-BY-SA
unless otherwise noted.