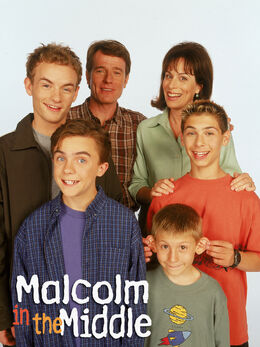 Malcolm in the Middle
is an American sit-com that aired on FOX from 1999-2006.
Malcolm in the Middle in Family Guy
In the episode "Breaking Out is Hard to Do", Peter assumed every Asian guy was Jackie Chan. When he met the real Jackie Chan, he started assuming every member of his White family was a Caucasian actor. He assumed that Meg was Malcolm in the Middle. meg was pissed off about this because she was not a boy.
In the episode "I Take Thee Quagmire", Brian was watching Malcolm in the Middle. Lois was seen, yelling at everyone in her family, much to their complete torture. Hal finally snapped and smacked Lois over the head with a refridgerator door, killing her. He and the boys were happy to finally be free.
In the episode "Brian's Got a Brand New Bag", Malcolm was seen, trying to play the role of himself on the show's 15th season. he was an old man.
In the episode "Herpe the Love Sore", Peter was watching a program called "Bryan Cranston Sneezes", showing Bryan Cranston winning an Emmy just for sneezing.
In the episode "The 2000-Year-Old Virgin", Jesus Christ admitted to Peter that he wanted to have sex with Lois. Before Peter unleashed the expected rage unto him, he assumed he was referring to Lois Wilkerson from Malcolm in the Middle.
Community content is available under
CC-BY-SA
unless otherwise noted.