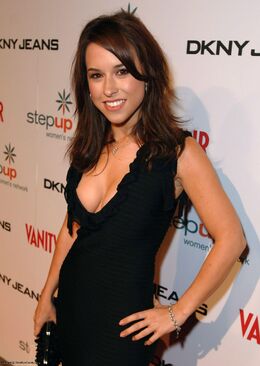 Lacey Chabert was the voice actor of Meg Griffin in the first season of Family Guy, before she unwisely gave up the job and was replaced by Mila Kunis, losing out on a lot of fame and money.
She is perhaps best known for roles including Gretchen Wieners in the movie Mean Girls, Claudia Salinger on the FOX teen drama Party of Five, the voice of Eliza Thornberry from Nickelodeon's The Wild Thornberrys, and the voice of Zatanna in DC's Young Justice.
Characters Voiced
Episodes Worked
Season 1
Season 10
Season 17
Trivia
Lacey Chabert has occasionally reprised her role as Meg Griffin in "flashback" or "time travel" episodes, such as "Back to the Pilot", "Yug Ylimaf", and "Griffin Winter Games". The Fourth Wall has been broken a number of times, when this happened.

In "Back to the Pilot", Stewie comments on the thunderous difference in Meg's voice, saying that "she sounds like someone who's about to give up on a huge opportunity".
In "Yug Ylimaf", Stewie realizes that he must have traveled really far back in time, when he notices Meg is voiced by Lacey Chabert again.
In "Griffin Winter Games", Meg says that she's been skiing, ever since she was voiced by Lacey Chabert. Later in the episode, she gets into a fight with the real Lacey Chabert over who the real Meg Griffin is before Peter shuts both of them up. Near the end of the episode, Meg once again references to Lacey Chabert, by screaming her name as a battle cry, when fighting the Koreans.

She was briefly referred to by name in "Business Guy" when Peter threatens to replace Lois' voice actor with her, in yet another reference to Lacey quitting her job as Meg's voice actor.
Lacey Chabert voice acted for herself in "Griffin Winter Games".
Community content is available under
CC-BY-SA
unless otherwise noted.