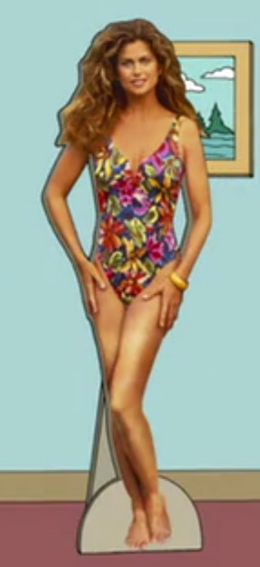 The Kathy Ireland Cutout is a cardboard cutout of Kathleen Marie Ireland, that was originally used in the 1980's-90's to promote Budweiser. One of the cutouts appeared in "Family Goy".
Biography
In "Family Goy", Horace dug up an old Kathy Ireland cutout in the back of the bar, and saw it as junk he had no use for anymore. He allowed Peter to have it. Peter apparently fell in love with it and "cheated on Lois" with it, before Kathy Ireland "cheated on him" with Chris, angering Peter into strangling it and "killing it". He buried it in the backyard, and Lois "forgave" him for "cheating on her".
In "Throw It Away", the Kathy Ireland cutout made another appearance, perfectly in tact and above ground. It was a piece of junk that the family had to throw away.
Community content is available under
CC-BY-SA
unless otherwise noted.