Kathy Griffin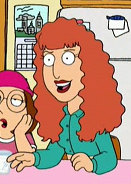 Peter's Cousin Kathy Griffin
Kathy Griffin is an American actress and stand-up comedian. In Family Guy, she's portrayed as Peter's famous and very chatty step-cousin, due to them not related blood.
Biography
In the episode "A Picture's Worth a Thousand Bucks", Peter vaguely mentions her during a conversation. During the cutaway gag she wouldn't stop talking so Peter spiked her drink, but he accidentally put it in Chris's drink, knocking him out.
She was on the list of celebrities Peter hates in "420".
A drill sergeant at obedience school demands to know if Brian is Kathy in "Once Bitten" after he makes a joke, although the drill sergeant reports that he isn't laughing.
In the episode "Orange In Da Whitehouse", she gets arrested for taking a picture of herself holding up a mock severed head of Donald Trump and posting it on Tumblr.
Community content is available under
CC-BY-SA
unless otherwise noted.