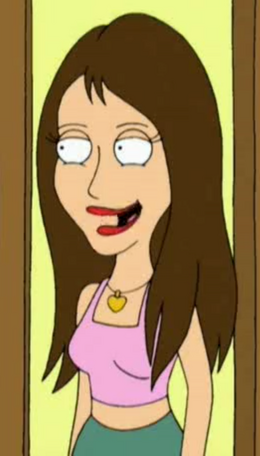 Jennifer Love Hewitt
(formerly Kumaglak Iniksuk)
is an American actress, television director, voice actress, singer-songwriter, author, and film and television producer. She rose to fame in teenage popular culture in her roles in the FOX series
Party of Five
, as Sarah Reeves, and films
I Know What You Did Last Summer
and its sequel, as Julie James.
Biography
In "He's Too Sexy for His Fat", it was revealed that Jennifer Love Hewitt was born as a short, male Eskimo in Alaska named Kumaglak Inuksuk. He left his village in search of a better life and ended up getting a sex change. The new female known as Jennifer Love Hewitt became a famous actress.
In "Stuck Together, Torn Apart", it is revealed that Jennifer Love Hewitt is the niece of Mort and Muriel Goldman, and thus cousin to Neil Goldman. During Peter and Lois Griffin's trial separation, Peter moved temporarily in with The Goldmans and they organized a date for him and their niece. Peter and Jennifer went to Taste of Sicily Ristorante for their date. Peter's behavior became increasingly gross and obnoxious which turned on Jennifer and she began to make love to him. Coincidentally, Lois had a date with Glenn Quagmire at the same restaurant and she beat up Hewitt out of jealousy. Jennifer tried to fight back but Lois managed to fend her off. Afterwards she hooked up with Glenn Quagmire, who ordered a roofie-colada for her, which is customary for him to order for his dates. She voiced herself.
In "Hell Comes to Quahog", she appears on Ghost Whisperer with amazingly large breasts.
Community content is available under
CC-BY-SA
unless otherwise noted.