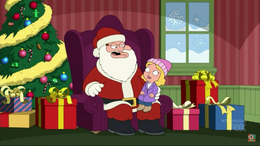 How the Griffin Stole Christmas is a Christmas episode of Family Guy.
Synopsis
Peter becomes a Mall Santa.
Plot
TBA
Characters
Major Roles
Minor Roles
Quotes
[Consuela snowboards down a mountain, on a broom]
Consuela: Snow ... Snow ... Snow.
[Bruce snowboards, riding on Jeffrey's back]
Bruce: Oh snow!
Jeffrey: I snow!
Bruce: Snow!
[Cleveland sleds down the mountain in a bathtub]
Cleveland: Snow snow snow snow SNOW SNOOOOOW!!!
[Cleveland crashes into a tree and the bathtub shatters into a million pieces]
Trivia
Cultural References
The title is a pun on the famous Christmas classic, "How the Grinch Stole Christmas".

Additionally, the movie "How the Lynch Stole Christmas" is also a parody on that movie.
Gallery
Videos