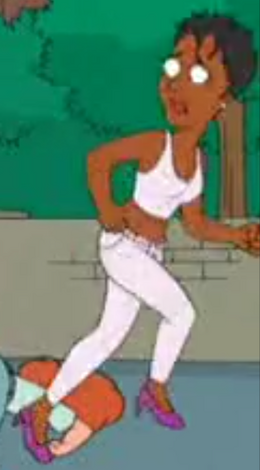 Halle Berry
is an American actress, former fashion model, and beauty queen. Berry received an Emmy, Golden Globe, SAG, and an NAACP Image Award for Introducing Dorothy Dandridge and won an Academy Award for Best Actress and was also nominated for a BAFTA Award in 2001 for her performance in Monster's Ball, becoming the first and, as of 2009, only woman of African American descent to have won the award for Best Actress. She is one of the most highly paid actresses in Hollywood and also a Revlon spokeswoman. She has also been involved in the production side of several of her films. Berry was involved with traffic collisions in 1997 and 2000. In the latter, she suffered a concussion and left the scene of the accident before the police arrived.
She appears in "The Courtship of Stewie's Father", working at Disney World's ride called "Halle Berry's Wild Ride". On the ride, she runs over several people and then runs away.
Community content is available under
CC-BY-SA
unless otherwise noted.