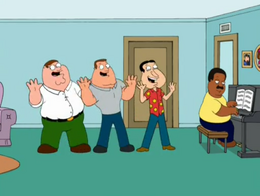 Good Morning
is a song sung by
Joe Swanson
and his friends in "
Believe It or Not, Joe's Walking on Air
". At the end of the song,
Stewie Griffin
also joined in.
Lyrics
All: Good Morning, Good Morning.
Cleveland: It's great to stay up late.
All: Good Morning, Good Morning, to you.
Peter: When the band began to play,the stars were shining bright.
Quagmire: But now the milkman's on his way, It's too late to say goodnight.
Joe: SO SAY GOOD MORNING!
Quagmire: AHH! [Sobbing] ♪Good morning, sunbeams will soon smile through.
All: Good morning, good morning, to you.
Stewie: Nothing could be grander than to be in Louisiana, in the morning, in the morn..
Stewie (Speaking): Oh sorry, I thought we were still going.
Community content is available under
CC-BY-SA
unless otherwise noted.