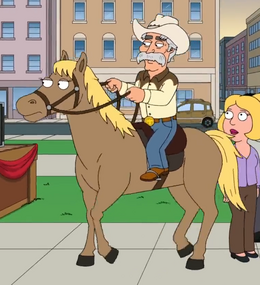 Ginger is the pet horse of Mayor Wild West, who he rides around as his primary mode of transportation. She first appeared in "There's a New Mayor in Town".
Biography
In "There's a New Mayor in Town", Wild West rode into Quahog on Ginger and used her to jump over a bunch of statues, fountains, and pole vaulting sticks, showing off Ginger's amazing atheletic skills. When they got to Town Hall, Ginger kicked Meg in the face because she got behind her, which you should never do to a horse. Stewie was amused when he heard Ginger's name, since her name is what you'd call a creepy redheaded kid. Later in the episode, Wild West rode Ginger into town in the middle of the night to save Elle Hitler from her burning Library and levitated off of her. At the end of the episode, Ginger joined now mayor, Mayor Wild West in singing "Arizona Moon" with the other animals and citizens of Quahog.
In "Must Love Dogs", Mayor Wild West was seen riding on Ginger in the sunset dusty old trail at the tail end of the episode and after explaining some important stuff to the audience, he rode off into the sunset with her.