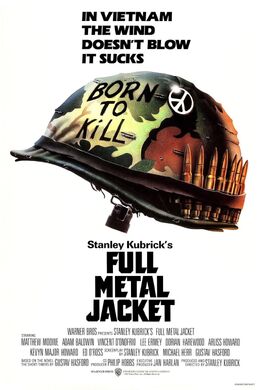 Full Metal Jacket
is a 1987 war film directed, co-written, and produced by Stanley Kubrick and starring Matthew Modine, R. Lee Ermey, Vincent D'Onofrio and Adam Baldwin. The screenplay by Kubrick, Michael Herr, and Gustav Hasford was based on Hasford's novel The Short-Timers (1979). The storyline follows a platoon of U.S. Marines through their boot camp training in Marine Corps Recruit Depot Parris Island, South Carolina, primarily focusing on two privates, Joker and Pyle, who struggle under their abusive drill instructor, Gunnery Sergeant Hartman, and the experiences of two of the platoon's Marines in Vietnamese cities of Da Nang and Huế during the Tet Offensive of the Vietnam War. The film's title refers to the full metal jacket bullet used by military servicemen. The film was released in the United States on June 26, 1987. It was the last of Kubrick's films to be released during his lifetime.
Community content is available under
CC-BY-SA
unless otherwise noted.