If you are new here please do your user page first after that please leave a message on my talk page!
What's new on Family Guy Fanon Wiki
Date/title

Peter The SLAC

As just aired
Date/title

News text
Helping out
To write a new article, just enter the article title in the box below.
<createbox> width=24 break=no buttonlabel=Create new article </createbox>
Not sure where to start?
Adding content
Talk and more...
Check out the community portal to see what the community is working on, to give feedback or just to say hi.
Or head on over to the forums and coordinate with the community on editing, projects, and more.
Affiliates
Featured article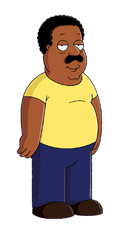 Cleveland Brown is an African-American man in Quahog, who is married to Donna Tubbs-Brown, fathers his son, Junior Brown, and step-kids, Roberta, and Rallo Tubbs, and works a job at the Quahog Post Office.
Cleveland is a famous character from Family Guy, known for being the long-time second best friend/across the street neighbor of Peter Griffin since the start of the show in the late 1990's. His legacy as a breakout character was big enough to make him the main character of his own spin-off series, The Cleveland Show, which, although lasting for only 4 seasons, has then since become a cult classic among fans.
Cleveland's voice actor, Mike Henry has announced that he, as a Caucasian man, will be retiring his role as Cleveland Brown, amid today's PC society harboring a slew of SJWs, who claim that a white person voice acting a character of color is "digital blackface" and after 22 odd years of providing his voice, he will be quitting his job and passing the torch to a new voice actor of color. Cleveland's new voice actor is set to be Arif Zahir.
Mike Henry as Cleveland is not the only one of his kind to do this, as this trend has been a snowball effect, which started in 2017, when comedian, Hari Kondabolu released a movie called "The Problem With Apu", which was mostly him complaining about the "racism" of The Simpson's token Indian character, Apu Nahasapeemapetilon. One of his complaints was that Apu's voice actor was white, eventually leading to Hank Azaria resigning his role as Apu. This has also led to other white voice actors of adult animated shows doing the same thing, such as Jenny Slate as Missy from Big Mouth and Kristen Bell as a mixed-race girl from a shitty Apple TV+ show nobody cares about.
It is likely that Hank Azaria's retirement of Apu may have been partly responsible for this "snowball effect". However, it's very important to note that given the fact that Mike Henry, Jenny Slate, and Kristen Bell all resigned around the same time, (that time being not too long after the murder of George Floyd), it's not unlikely that this was also one of the main reasons for these specifically Caucasian actors and their sudden collective resignation of specifically African-American and Mulatto characters.
Featured media
Use this section to show a featured image, video, or song.