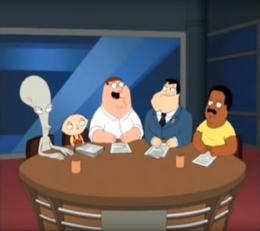 FOX Sunday Table Talk
is a recurring bumper, relating to
Family Guy
,
American Dad!
, and
The Cleveland Show
, that airs on FOX on Sundays, between those shows. It's content features characters from the three shows, sitting around a table, and talking about various subjects, that people would generally talk about on a table talk show, with comedic results.
Bumpers
Hillary Clinton
Stan: Alright, politics! What do we got?
Peter: Hillary Clinton as secretary of state. What do you think?
Stan: Ooh, man. Strong opinions about that subject. Strong.
Rallo: We got a woman as secretary? Damn.
Roger: And what's so damn "Damn" about that?
Rallo: Nothin', I just miss our Baker, man.
Cleveland: Ha ha ha ha. Like the nursery rhyme.
Peter: Alright, what other jokes we got about this?
Stewie: Well, I think she's doing great, but I bet Joe Biden would like a bit less blonde ambition at state.
Roger: I read that in the New York times.
Stewie: What?
Roger: That was in the New York times. You stole it.
Stewie: No I didn't.
Stan: You did. I remember reading that, earlier today.
Cleveland: Yeah, that was in Maureen Dowd's column.
Stewie: Well, tha-tha-that Maureen Dowd sounds like one sharp tack. I'll have to start reading her. Wha-wha-what paper does she write for?
Rallo: Come on, man. You stole that.
Peter: Stolen ... Like Hillary Clinton stole our tax money. Cuz, ... cuz she's uh, a bad secretary. Is that-is that a joke?
Stewie: Eh, sounds like you just made it up.
Peter: I did.
Stan: Of course he did.
Cleveland: He did, man.
Peter: That's what makes it original.
Stewie: Look, my joke was original too. Maureen Dowd just had the same idea, you know? Collective thinking.
Roger: So, you're telling me, that if I look through that pile of papers, I wouldn't find a Maureen Dowd column?
Stewie: No. I'm just-I'm just-I'm just gunna-I'm just gunna go ahead and recycle these.
Peter: Like you recycled her joke.
Stewie: Shut up!
Earth Day
Peter: Alright, how's everyone plannin' to celebrate Earth Day?
Roger: Earth Day. Why's it always have to be about Earth? There are other planets, you know.
Peter: Oh really? Name one. And don't say Krypton.
Roger: Well, my home planet, for one.
Cleveland: Oh, you're supposed to be an alien? I thought you were an octopus.
Roger: An octopus? No, I'm clearly an alien. How do I look like an octopus?
Cleveland: Well, you got the whole head going on.
Roger: Oh, right, because only octopuses have heads. Did it strike you slightly odd, that an octopus would only have four limbs? I'm an alien, dipstick!
Cleveland: Well, there's no need to be rude. It's an honest mistake.
Rallo: Actually, Cleveland. I'm gunna be real witchyoo, man. That's a very dishonest mistake. [holds up picture of an octopus] This is what an octopus looks like.
Cleveland: Rully?
Roger: Yeah. Alien. Even your five year old son knows that.
Cleveland: I feel like an ignoramus.
Rallo: Step son, actually, and for the record, I did not approve of him marrying my mom.
Roger: Kicking the loser, while he's down. I love it.
Stewie: So, are you the kind of alien who, I don't know, probes people?
Roger: Depends where they keep their pecan sandies.
Cleveland: Ha ha. You're funny, space octopus.
Roger: ALIEN, YOU IGNORAMUS!!!
Peter: I think we're getting off track. What did we do today, to protect our environment?
Stan: Nothing. That's all hippie crap.
Peter: What?
Roger: Yeah, Earth is pretty doomed as it is. Trying to fix it is a lost cause.
Stan: Besides, oil factories may destroy nature, but they help fuel nature's more successful older brother, urban cities.
Roger: Down with recycling! Up with not recycling!
Peter: Jeez! Is anyone here NOT against recycling?
Stewie: Me.
Peter: Oh, thank God. I knew my son would pull through.
Stewie: Actually, it's just that I don't care about it.
Peter: Oh, come on! This is our planet we're talking about. None of you did anything to keep the land we live and breathe on clean?
[beat]
Rallo: I recycled a banana peel.
Football
Stan: So, men. What's on the agenda for the day?
Rallo: Let's talk about football!
Peter: Ah, yes. The sport named after two random parts of the body.
Stewie: I've never been a fan of football.
Rallo: You what!?
Stewie: Yeah. Sports. It's just never been my cup of tea.
Rallo: Get out of here, you blasphemer!
Roger: Jeez, Stewie, I assumed you'd love football. You know, judging by the shape of your head.
Stan: Ooooooh! Owned! Owned! He just got owned!
Stewie: Oh, shut up. You're one to talk. Your head looks like you have a brain tumor, and your head looks like a portrait of a guy, where the paint got smeared.
Stan: Lame.
Roger: Yeah. Lousy comeback, even if his head does look like God had arthritis, when creating him.
Stan: Hey, let's stick with dissing Stewie, here, huh?
Cleveland: How about we stick to the topic at hand instead?
Rallo: Yeah. Who do you think is gunna win the upcoming game?
Peter: I bet my money on The Harlem Globetrotters.
Rallo: The Harlem Globetrotters?
Peter: Yeah, and I bet everyone's favorite mystery gang, will be cheering them on from the sidelines. They owe 'em some support, after all the monsters they've helped them catch.
Rallo: What the hell, you talkin' 'bout, fatass?
Cleveland: The Harlem Globetrotters are basketball players, dumbass.
Peter: Wait, what sport are we talking about?
Roger: Football! Did I ever tell you guys, I played for Green Bay?
Cleveland: Hey, who the hell are you, anyway?
Roger: Roger the alien. You called me a space octopus, last time we were here.
Cleveland: Oh, yeah. How you doing, space octopus?
Roger: I am not a space octopus! There's no such thing as space octopuses!
Stewie: Space octopi.
Roger: Shut up! Can't I just tell my story of being the plucky wideout for Green Bay?
Peter: Nope.
Winter
FOX's 25th Anniversary
Characters
Community content is available under
CC-BY-SA
unless otherwise noted.