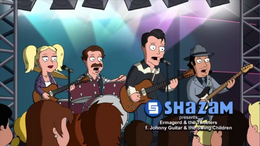 Ermagerd and The Tweeters is a millennial band, owned by the same parent company that owns "The Q". It was featured in the episode "Disney's the Reboot". They are best known for their song, One of Us is Richard Gere's Kid", which perfectly exemplifies that one member of their band is the offspring of Richard Gere.
Trivia
In real life, Richard Gere has two children, named Homer James Jigme Gere and Albert Silva, (who is technically not his, as he was the son of his second wife and her ex). It's likely that the leader of the band, (A.K.A. "Ermagerd") is intended to be the likeness of Gere's actual son, Homer.
Community content is available under
CC-BY-SA
unless otherwise noted.