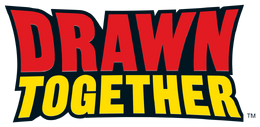 Drawn Together
is an animated reality show, where 8 cartoon characters from different genres of TV shows live together in the same house. It aired in Comedy Central and was very popular. However, the show was cancelled because it was too crude and offensive, much to the disappointment of a bunch of fans. The show is known for featuring a bunch of animated cameos from other cartoon shows and "
Family Guy
" is no exception.
Family Guy in Drawn Together
In "Hot Tub", The Kool-Aid Guy busted through the courtroom wall, after a few housemates said "Oh no!" three times, referencing to the running gag in Family Guy of him doing this.
In "N.R.A.y Ray", Joe Swanson was one of the cops, investigating the case of the stolen TV set. Later in the episode, the Evil Monkey appeared in the battlefield of all the animals that Captain Hero was shooting to death. The Finger Monkey lept out of a corner and pointed at him, only to be instantly pistoled in the head.
In "The Lemon-AIDS Walk", Peter and Lois walked past a homeless Captain Hero and Peter gave him a quarter. Lois asked why Peter would give him money, knowing that he would just spend it on alcohol. Peter said that it couldn't be any worse than that time he spent a bunch of money on a date on the moon with Tom Cruise, leading to a stupid cutaway gag, where Peter went on a date with Tom Cruise on the moon. The two characters were voiced by their original voice actors, Alex Borstein and Seth MacFarlane.
In "Lost in Parking Space Part 2", Meg Griffin was being brutally tortured and mutilated in a torture chamber for cartoon characters that everybody hates. Meg screamed in pain and agony over being tortured, only to be silenced by a gag. As her torturer placed this gag over her mouth, he quoted "Shut up, Meg."
In "Breakfast Food Killer", Brian Griffin was one of the candidates in line for being the new mascot of Quakers Cereal.
In "Drawn Together Babies", The Drawn Together Babies killed Charlotte the Babysitter. Right after that, Stewie Griffin came by and said "How did you guys do that so easily!? You have to teach me your ways." This was a reference to how in Family Guy, he's always trying to kill Lois.
In "American Idol Parody Clip Show", one of the fun facts was that the creators of Drawn Together are good friends with Seth MacFarlane.
Community content is available under
CC-BY-SA
unless otherwise noted.