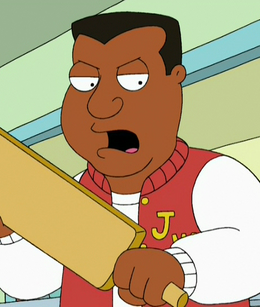 Douglas "Doug"
is a football jock at James Woods Regional High School. He is part of the popular clique, along with
Connie
and
Gina
. As of "
He's Bla-ack!
",
Roberta Tubbs
has started using him to cheat on her long-distance boyfriend, Federline.
Biography
He appears as an African American in "Let's Go to the Hop" as one of the many at the school doing "Toad."
In "And the Wiener is...", Doug's character design is seen as a white kid who held the pig in the closet for Meg to kiss as part of a prank on her.
After this episode however, his character design is changed back to African-American for all of his later appearances, such as in "Jungle Love" as one of the upperclassmen that paddles Chris Griffin and in "Patriot Games" at the end of "Shipoopi".
He becomes one of Chris' friends in "Stew-Roids" and is attacked by Meg in "Dial Meg for Murder".
Doug started dating Roberta in "He's Bla-ack!", when she started going to his school. Roberta openly admitted that she never broke up with Federline, so she's technically cheating by dating him. Doug said that it was okay because there was a whole lot of girls he was cheating on with her right now too.
In "Junior Sized", Doug and Roberta helped Cleveland Junior get a new girlfriend now that Cecelia was out of his life. The notion that Roberta was cheating on Federline with Doug was brought up again.
In "A Shot in the Dark", Doug was one of the protesters, calling The Griffin Family out on their alleged racism.
Doug went to prom with Roberta in "Chris Has Got a Date, Date, Date, Date, Date" and "Run, Chris, Run".
In "Cash Meg Ousside", Doug was impressed with how badass Meg had become, ever since she went street.
In "The Peter Principal", Doug and the others bully Meg by putting the Arc of the Covenant in her locker, causing her to burn her face off.
Episode Appearances
Community content is available under
CC-BY-SA
unless otherwise noted.