This Article is Under Construction

---
Tyrone Stone <- Previous Husband - Carol's Husband Guide - Next Husband -> Alejandro Cancesco
---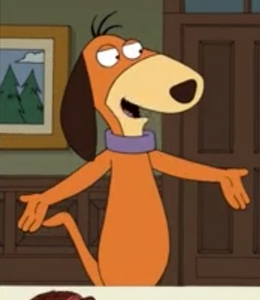 Doggy Daddy O'Craggity is some retarded cartoon dog from a stupid old Hannah Barbera show that nobody cares about. He has appeared in Family Guy and serves a significant role in the show's lore. In the Family Guy Universe, Doggy Daddy is the fourth husband of Carol West, following her divorce with Tyrone Stone and he has the last name "O'Craggity" for some reason. Because it's funny, I guess. I don't know. Anyway, he make his first appearance as an actual character in "Brothers & Sisters".
Biography
Shortly after the divorce of Tyrone Stone, Carol decided it was time for her to move on and find somebody new. She went out into the real world and looked for a new man. The man she found was Doggy Daddy from the Hannah Barbera cartoons. It was love at first sight and the two of them were certain that it was meant to be.
Lois and Babs had their doubts about the couple, considering Carol's previous three husbands and again, still not wanting to hurt her, they felt it was time to step in and give her some moral guidance. The two sat down and talked with her and told her that maybe this time, she should take things slowly with Doggy Daddy. Carol was offended at first but Carter also stepped in and supported their claims.
Community content is available under
CC-BY-SA
unless otherwise noted.