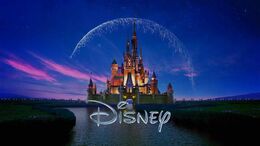 Disney
is a massive evil corporation that is slowly but surely taking over the world. Originally created by
Walt Disney
on October 23rd, 1923, it has since grown to be by far, the largest and most domineering media conglomerates in the entire world.
Acquisition of FOX
You may think that it has nothing to do with Family Guy other than Walt Disney and Seth MacFarlane's shared opinions on Jews, but on March 20th, 2019, Disney actually bought FOX for $71.3 billion, taking massively popular and well-beloved non-Disney media such as The Simpsons, Family Guy, Empire, Glee, American Idol, Master Chef, Gotham, Hell's Kitchen, Arrested Development, Brooklyn Nine-Nine, American Dad!, The Cleveland Show, King of the Hill, Futurama, Malcolm in the Middle, Last Man Standing, Cops, Paradise Hotel, and The Four: Battle for Stardom, and turning them into Disney productions. Since then, Family Guy has technically become a Disney production. Yeah, ... Family Guy is technically a Disney show now. Feels weird saying that, but it's true.
Subsidiaries
This is a list of companies that have been bought and dominated by Disney.
Pixar - Believe it or not, but Pixar was once actually it's own independent company and it was doing pretty good for itself. However, in 2006, Disney noticed the strongly blossoming little company's big success with movies like Toy Story, A Bug's Life, Finding Nemo, Monster's Inc. and The Incredibles and they feared the competition. Not wanting to have a company outrank, equal, or even do a decent job without it, Disney bought the company on January 25th, 2006 for $7.4 billion.
Marvel - Disney bought Marvel Studios on August 31st, 2009 for $4.24 billion, once again, sucking up all of the money the company made and keeping it all for itself.
Lucasfilms - On October 30th, 2012, Disney gave the world of business a huge fright, just in time for Halloween, when it bought Lucasfilms for $4.0 billion. Since then, all of George Lucas' famous productions (which literally means nothing more than the Star Wars franchise and to a unspeakably lesser degree, the Indiana Jones franchise) were officially properties of Disney.
FOX - See "Acquisition of FOX" above.
Community content is available under
CC-BY-SA
unless otherwise noted.