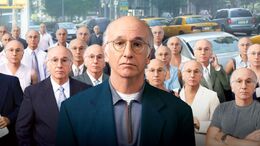 Curb Your Enthusiasm is a show on HBO, that's very funny and it's about Larry David.
Curb Your Enthusiasm references in Family Guy
In "Chick Cancer", a cutaway gag, featured Luke Skywalker offending one of his co-workers, by answering his question, when he asked it to the general. A funny Seinfeldian argument occurred between the two and Luke was treated like a jerk, when he was just trying to be nice. "Frolic" played, while Luke stood like a shrugging lame-o.
In "Lois Comes Out of Her Shell", Stewie told

Sheldon

, that he looked like a nude Larry David.
In "Peternormal Activity", The Beer Bar Buddies kill a man, who they presume is an escaped mental patient, only to find out that he was not only just the janitor, but a war hero. After this silly misunderstanding plays out, the Curb Your Enthusiasm music plays, leading into the next scene.