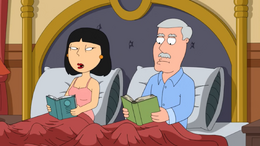 Carter and Tricia
is an episode of Family Guy.
Synopsis
Carter Pewterschmidt marries Tricia Takanawa.
Plot
TBA
Characters
Major Roles
Minor Roles
Trivia
Cultural References
Deleted Scenes
Are we talking about Jake Gyllenhaal or Jared Leto?
A stupid cutaway about Dr. Frankenstein and Igor.
Peter becoming that guy with a ski tan that he can't talk about.
Extended dialogue about standing desks.
Peter saying something dumb about people disrespecting him if he wears shorts.
Peter wanting to go to Surf Camp.
Stewie showing a driving video, where everyone is played by him.
Peter fucking around with the underpants vending machine.
Pointless dialogue between Chris and Lois, explaining what we already know.
Peter assisting a really, really old Indiana Jones get out of the bathtub.
Carter and Tricia tack about buttocks and knuckles.
Carter belches through his nose.
Tricia thinks Papa John is dying his eyebrows, so she fucks him.
A cutaway about pedophile boy scouts.
Peter and Carter chuckling for no apparent reason, making everyone else chuckle.
Stewie and Brian making some dumb joke, where Stewie asks him for ice cream.
Community content is available under
CC-BY-SA
unless otherwise noted.