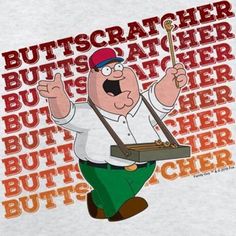 Buttscratcher
is a running gag on
Family Guy
, involving parodies on backscratchers called "buttscratchers". The gag involves
Peter
walking around the bleachers of a baseball game and yelling "Buttscratcher!" in a hot dog vendor-like fashion.
Occasions
Peter walked around a baseball game, selling buttscratchers like a hot dog vendor. He yelled "Buttscratcher!" into the crowd and a few people would yell back at him, "Buttscratcher!" if they wanted to buy a buttscratcher.
Peter becomes a "Pot Baggy" vendor and goes around the baseball game, shouting "Pit Baggy" in the same fashion as he did with buttscratchers.
Lois goes around the audience of The Ellen Degeneres Show, selling Boobscratchers in the same fashion as Peter did in the baseball game with buttscratchers.
Community content is available under
CC-BY-SA
unless otherwise noted.