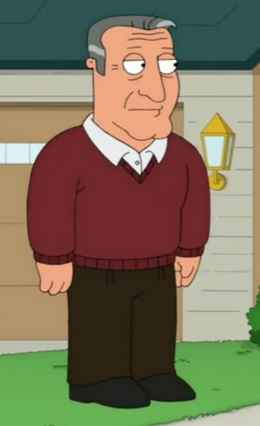 Buddy "Bud" Swanson
is the biological father of
Joe Swanson
, the adoptive father of
Janine Bananas
, the husband of
Joe's Mom
, the grandfather of
Kevin
and
Susie Swanson
, and the father-in-law of
Bonnie Swanson
. He first appeared in "
Papa Has a Rollin' Son
".
Biography
In "Papa Has a Rollin' Son", Bud comes to Quahog to visit Joe. Joe is worried because his dad hasn't seen him since long before he became crippled and he knows that his father is an ableist. So, he gets Peter to pretend to be him. Bud believes the act when he sees him because it's been so long since he's seen him, so he can excuse how he looks different. Bud also gets some time to catch up with Bonnie and Kevin and even gets to meet Susie. We learn that Bud used to be in the army. At the end of the episode, Joe admits to his dad that he's actually himself and that he's crippled. Bud hates and resent him for this and then leaves him, saying that he has no son anymore. Joe feels sad that his father hates him but he doesn't care because he knows that the rest of his family loves him. However, we learn shortly after that his family hates him just as well and that they'd rather have Peter stay the patriarch of their family.
Community content is available under
CC-BY-SA
unless otherwise noted.