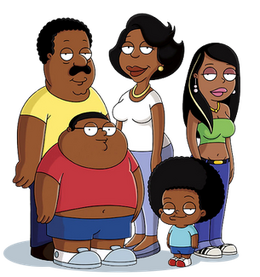 The Brown-Tubbs Family is a major family in Family Guy, living in the Brown House on Spooner Street. They were formerly the main family of The Cleveland Show. They are a blended family, where Cleveland Brown, father of Cleveland Junior, marries Donna Tubbs, mother of Roberta and Rallo, after the divorce of his ex-wife and Junior's biological mother, Loretta as well as the divorce of Donna's ex-husband and Roberta and Rallo's biological father, Robert Jones. They also own the pet dog, Rock Hudson.
Members
Extended Family
Brown Family
Tubbs Family
Robert Jones (Donna's ex-husband)
Auntie Momma (Donna's designated caretaker; Dee Dee's sister)
Dee Dee Tubbs (Donna's mother; deceased)
Hong Kong Phooey (Robert and Dee Dee's adopted son)
Janet Tubbs (Donna's sister)
Brian Tubbs (Janet's son)
DeBrian Tubbs (Janet's son)
Dennis Rodman (Donna's first ex-husband)
Community content is available under
CC-BY-SA
unless otherwise noted.