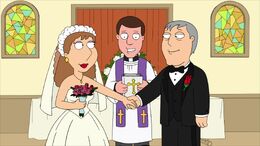 Brothers & Sisters
is an episode of Family Guy.
Synopsis
After Carol's ninth divorce, Lois pleads her to slow down, before she decides to date again.
Plot
TBA
Characters
Major Roles
Minor Roles
Trivia
The episode title references the 2006 TV-show Brothers & Sisters.
Carol Pewterschmidt's nameless baby son born in "Emission Impossible" has inexplicably disappeared.
One of Carol's ex-husbands was Doggy Daddy from the Augie Doggy segment of The Quick Draw McGraw Show.
Both Michael Gross and Meredith Baxter reprise their roles as Steven and Elyse Keaton for a later episode of Family Ties. The episode aired the same night as the 9th Annual TV Land Awards, which featured a Family Ties cast reunion. Both the awards and the episode began at 9PM Eastern Time.
Mayor West's fear of an English noblemen invoking the right of Primae Noctis: the right for the lord to take a newly married woman into his bed and spend the wedding night with the bride.
The episode incorrectly notes that Thomas Edison's invention will power the world. Thomas Edison was a promoter of DC current over Nikola Tesla's AC current but was not the inventor. Nikola Tesla's AC current is the most widely used power source in the world.
Personal cell phones cannot be used on domestic flights to make calls, yet Quagmire talks to Peter on his cell phone while flying the plane.
The original broadcast version had a cutaway gag by Lois regarding short Alaskan Summers when Mayor West informed her of his intentions to leave Quahog. The DVD version replaces this with Lois bringing up the topic of Alaskan child molesters.
When Carol talks to Peter over the phone, she at first does not recognize him and angrily yells "give me back my son!" This is the same quote uttered by Mel Gibson in Ransom.
Mayor West mentions the title character from the film Beetlejuice and nearly says it three times which would have made him appear.
When proposing, Mayor West calls Carol "Carol Yastrzemski", a reference to Carl Yastrzemski who played for the Boston Red Sox.
Errors
When Lois first comes out of the house to greet Carol, the mailbox's flag is at what appears to be a 30 degree angle. Once Quagmire comes in to help Carol, the flag is straight.
Community content is available under
CC-BY-SA
unless otherwise noted.