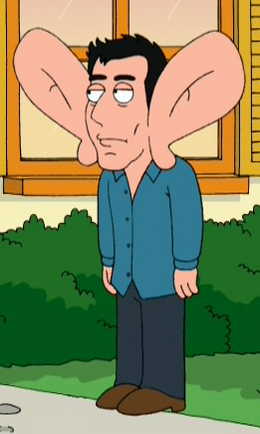 Benjamin "Ben" Edward Stiller
is a man with incredibly large ears. He is best known for being an actor in comedy movies such as "
Zoolander
", "
There's Something About Mary
", "
Little Fockers
", "
Madagascar
", "
Along Came Polly
", "
Night at the Museum
", "
The Heartbreak Kid
", and "
Zoolander 2
". He is the son of veteran comedians and actors Jerry Stiller and Anne Meara.
Biography
He appeared in "The King Is Dead" in a parody of "There's Something About Polly" called "There's Something About Stewie", with Stewie Griffin as himself, instead of Cameron Diaz as Mary.
In "Hell Comes to Quahog", his character of Alex the Lion from Madagascar appears and was voiced by David Boat.
In "Whistle While Your Wife Works", Glenn Quagmire describes a scene of Stiller's film Along Came Polly over the phone to Peter Griffin.
In "No Meals on Wheels", he was portrayed with freakishly large ears. He helped Peter believe in himself. After his mission was accomplished, he flew away using the ears. On the ground, Peter declared his movies stink. Later, he confronts Peter, who at this point is on the bottom of the Crippletron pile. He refuses to help him because of what he said about his movies.
Joe watches Stiller in his film Tower Heist in "This Little Piggy".
Community content is available under
CC-BY-SA
unless otherwise noted.