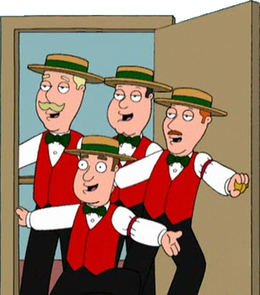 The Barbershop Quartet is a group of four men, who sing upbeat vaudeville style songs, generally about rather indecent topics, such as AIDS, vasectomies, and abortions.
Biography
In "The Cleveland Loretta Quagmire", a cutaway shows Peter working as a doctor, accompanied by the Barbershop Quartet. He and the quartet come in and sing to a man that he has AIDS, in the song "You Have AIDS".
In "Mo' Jobs", The Barbershop Quarter appears again to show Peter the ropes of working as a
In "Sibling Rivalry", Brian brings the Quartet in to teach Peter about vasectomies in the form of a feel-good song.
In "Family Gay", Lois tried to get Peter to come back to being straight again, by hiring the Barbershop Quartet to sing him a song about cunnilingus.
In "New Star Stew-Dent",
In "Road to the Multiverse", Disney versions of them appear in an alternate dimension. They are portrayed as a swarm of bees and they sing a part of the song, "It's a Wonderful Day for Pie".
In "Partial Terms of Endearment", they sing to Lois, explaining the process of abortions to her.
In "The Mortician", they sang at the funeral of Diane Simmons.
In "Holly Jolly Folly", they sang Christmas songs.
Episode Appearances