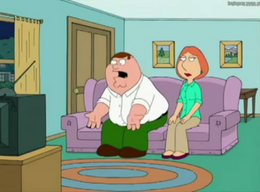 And Then There's Maude is the theme song to the 1970's TV series, Maude. An extended parody of it was featured in the Family Guy episode, "No Meals on Wheels".
Lyrics
Lady Godiva was a freedom rider. She didn't care if the whole world looked.
Joan of Arc, with the lord to guide her. She was a sister, who really cooked.
Madame Curie was a strong woman character. Working all day in her scientist lab.
Margaret Fuller broke down lots of barriers. Sailed on a boat, instead of taking a cab.
Clara Barton was a famous nurse. Rapping with the soldiers and the bandages too.
Marie M. Daly made science more diverse, by mixing some color in with the chemical stew.
Mother Teresa, with her heart, always beating. She built some houses that were really divine.
Susan B. Anthony, always out doing stuff. Marching around and holding up signs.
Pocahontas had it all going on. An Indian guide with lots on Indian pride.
Mary Wollstonecraft made empowering books. This woman would write about women's rights.
Indira Gandhi ran a whole big country. That isn't easy, even if you're a guy.
Sojourner Truth told the truth, beside gallantry, that women were equal and made a speech, explaining why.
Babe Zaharias was a pretty good athlete. Good at track and field and professional golf too.
Audrey Hepburn was in black and white movies. She also contributed to UNICEF too.
Rosa Parks rode around in a bus. But she didn't wanna sit in the back.
Amelia Earhart flew a lot of airplanes. Except for that one time, when she didn't come back.
Alix of Hesse was the empress of Russia. A fancy lookin' lady who was dressed to the nines.
Cleopatra lived way out in the desert, but still found a way to keep herself looking fine.
And then there's Maude.
Community content is available under
CC-BY-SA
unless otherwise noted.