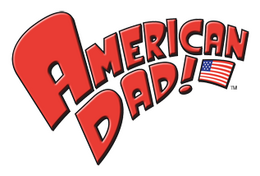 American Dad!
is an American adult animated sitcom created by Seth MacFarlane, Mike Barker, and Matt Weitzman for the Fox Broadcasting Company. American Dad! is the first television series to have its inception on Animation Domination. The series premiere aired on February 6, 2005, following Super Bowl XXXIX, three months before the rest of the first season aired as part of the Animation Domination block, commencing on May 1, 2005.
Crossovers
American Dad! on Family Guy
Family Guy on American Dad!
In the episode "Family Affair", one of Roger's other families was The Griffin Family. He had a very close relationship with Meg.
In the episode "The People vs. Martin Sugar", Stan listed off his top 10 favorite dogs. Number one on his list was Brian Griffin, who made an appearance right in his show. Brian then said "Do I know you?" as he walked off, leaving Stan yelling "STOP PRETENDING YOU DON'T KNOW ME!"
In the episode "Return of the Bling", Klaus gets ready to go to school and dresses up in an attire comprised entirely of Family Guy merchandise. This means a Brian Griffin fat, an FG logo shirt, and a Family Guy titled lunchbox.
At the end of the episode "Hurricane!", (part of the super hurricane special, where all three Seth MacFarlane shows get affected by the same hurricane), Peter Griffin of Family Guy and Cleveland Brown of The Cleveland Show are seen in the same wreck that he's in and they all have a Mexican stand-off with each other.
In the episode "The Worst Stan", Steve and Roger are on the bus, watching an episode of Family Guy on their laptop, featuring Brian and Stewie getting off of an airplane. (The "episode" they're watching isn't actually a real episode. It was animated exclusively for that scene). Steve and Roger criticize how unrealistic it is for a baby and a dog to be allowed to get on an airplane and travel a long distance like that, without having anyone question them. They then compare it to themselves, saying that a teenage boy and an alien traveling on a bus, without having anyone question them.
In the episode "The Unbrave One", Francine takes an online pregnancy test from one "Dr. Vadgers". It is obviously a scam, but only Stan can see that. During the credits, a house is seen with lots of typing heard from inside. In the last few seconds, a close-up on a pair of hands is shown typing an e-mail signed Dr. Vadgers. The owner of the hands is Glenn Quagmire, who says his catchphrase, "Giggity."
In the episode "Fight and Flight", Roger's "carnival scene" in his Where's Waldo book contains an overhead view of the Spooner Street neighborhood where the Griffins live in Family Guy.
See Also
Community content is available under
CC-BY-SA
unless otherwise noted.