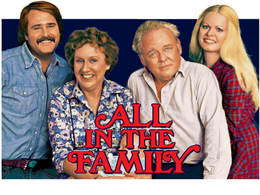 All in the Family
is an American sitcom TV-series that was originally broadcast on the CBS television network for nine seasons, from January 12, 1971 to April 8, 1979. The following September, it was replaced by Archie Bunker's Place, which picked up where All in the Family had ended and ran for four more seasons.
All in the Family in Family Guy
In "Stewie Loves Lois", the ending credits of the episode parody the credits of All in the Family.
In "PTV", Peter airs an "original version" of an episode, featuring Archie and Edith trying to frighten their black neighbors, The Jeffersons, into moving by donning robes worn by the Ku Klux Klan and burning a cross on their lawn. The plotline of Peter's "original" show was inspired by the 1977 episode "Archie and the KKK", wherein Archie actually tries to stop the KKK's plans to burn a cross on son-in-law Mike's lawn.
In "The Simpsons Guy", The Griffins watch an All in the Family/Modern Family crossover episode. Claire Dunphy brings hummus, Archie jokingly points at gay couple Mitchell and Cameron claiming he thought they were the hummus "homos".
Trivia
Seth MacFarlane says that if he could reboot any TV show in the world, it would be All in the Family, because he loved it so much as a kid.

Despite this, he's talked constantly about wanting to reboot The Flintstones.

The Theme Song for Family Guy is based on the theme song for All in the Family.
Peter Griffin is based off of Archie Bunker, in that his appearance, personality, and role in the show exhibit traces of Archie Bunker's character.
A few episodes of this show were "inspired" by All in the Family episodes.

In "The Father, The Son, and The Holy Fonz", Francis Griffin's desire to see grandson Stewie baptized, and eventually going behind Lois's back to do so, was inspired by the episode "Joey's Baptism".
"Brian & Stewie" was inspired by two episodes of All in the Family: "Archie in the Cellar" where Archie becomes locked in the basement for an extended period of time) and "Two's a Crowd", where Archie and Mike lock themselves in the storeroom of the tavern Archie owned. Both bottle episodes. In the case of "Two's a Crowd", disturbing, dark secrets come to the surface. Archie reveals he was physically abused by his father as a child; in "Brian & Stewie", Brian admits that, when asked about a gun he kept in his safety deposit box, he has seriously considered suicide.

If you wanna consider Family Guy to be an All in the Family parody, then you can also consider The Cleveland Show to be somewhat of a parody on The Jeffersons.
Community content is available under
CC-BY-SA
unless otherwise noted.