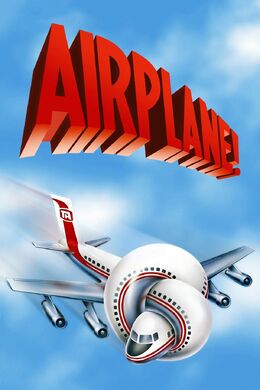 Airplane (alternatively titled Flying High!) is a 1980 American satirical disaster film written and directed by David and Jerry Zucker and Jim Abrahams, and produced by Jon Davison. It stars Robert Hays and Julie Hagerty and features Leslie Nielsen, Robert Stack, Lloyd Bridges, Peter Graves, Kareem Abdul-Jabbar, and Lorna Patterson. The film is a parody of the disaster film genre, particularly the 1957 Paramount film Zero Hour!, from which it borrows the plot and the central characters, as well as many elements from Airport 1975 and other films in the Airport film series. The film is known for its use of surreal humor and its fast-paced slapstick comedy, including visual and verbal puns, gags, and obscure humor.
Community content is available under
CC-BY-SA
unless otherwise noted.