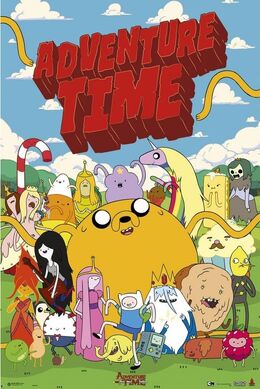 Adventure Time
is an American animated children's cartoon that aired on Cartoon Network from 2010 to 2018, with 400 episodes spanning 10 seasons. It was created by Pendleton Ward. The series focuses on a boy named Finn the Human and his pet dog, Jake the Dog, going on wacky adventures in the colorful and candy colored, yet nuclear, post-apocalyptic world of The Land of OOO. Despite the controversy over the show's stupid and often crude content as well as the alienating and nonsensical premise, or perhaps because of it, the show garnered massive amounts of fame from children and adults alike. The show could be enjoyed by a child for it's bubbly and childish demeanor, but it could also be enjoyed by an adult, for it's secretly deep and meaningful storylines, strong and consistent world building, and ongoing and intriguing lore, that carry with it a high concept science-fiction story about the aftermath of a nuclear apocalypse. It can even be enjoyed by stoners for just being as crazy as fuck. No matter what, Adventure Time was an animation giant back in the day, which garnered a massive cult following, tons of crazy merchandise, both from actual companies, and fan-made, and it will forever be an outstanding relic of cartoon history.
Adventure Time in Family Guy
Community content is available under
CC-BY-SA
unless otherwise noted.